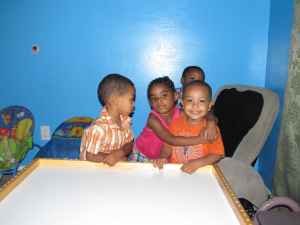 HELLO MY NAME IS MS. HEMING. AND I'M A REGISTERED CHILDCARE PROVIDER.
I AM C.P.R. AND FIRST AID CERTIFIED.
MY BUSINESS HOURS ARE 6AM-6 PM MONDAY-FRIDAY.
I OFFER: Healthy and nutritive food is provided and inspected by USDA. (breakfast, lunch, dinner, and snacks)
Theme lessons, Spanish Classes, Story Times, Nap/Quiet Times, Circle Times, Outdoor Activities, Homework, Developmental Environment.
Focused care and attention individually.
I AM ACCEPTING INFANTS THROUGH THE AGE OF 12 YRS. OLD
IF YOU WANT THE BEST CARE FOR YOUR LITTLE ANGELS THEN LOOK NO FURTHER
I AM A COMPASSIONATE AND LOVING CHILDCARE PROVIDER WITH EXPERIENCE OF CARING FOR CHILDREN
Great/positive references are available
for more information please call me at 832-352-7817